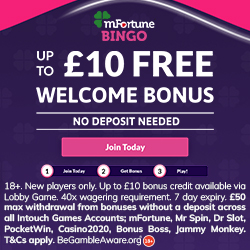 Bingo is quite a fast game and there isn't much time to type out a whole conversation word for word so Bingo Lingo was created for this reason.
Compared to other casino games, bingo is a very social pastime.
If you go to a land casino, you won't find too many people standing around the blackjack tables talking tactics.
But when you play bingo online, you get the chance to meet other like-minded people.
Players enjoy taking breaks from gameplay and meeting each other to talk about their day and their lives.

It's possible to combine the two, because actually playing bingo isn't all that hard once you get used to the speed of the game.

So you can have one window open where you are playing the game, and another window where you can chat to friends.
Playing with Friends
In a land-based casino you will find that a great many people go in groups to the bingo halls, and it's the same online. People pre-arrange when they are going to be available, and choose to play the same games at the same time.
It's a way of keeping in touch with friends and family that is also great fun at the same time.
What's great is that you get to celebrate each other's wins and commiserate over the near misses.
In any online bingo game, there will be lounges available where you can go to meet up with specific people or to just hang out and see who's online.
It can be a great place to meet new people, because right from the start there is something you have in common so it makes conversation easy.
Even if you find it hard sometimes to combine playing bingo with chatting, there is an easy answer. You can set your card to auto mark, so you don't need to check off your own numbers, and that will allow you to give more of your attention to chatting with friends.
Below is a list of chat room abbreviations:
10x - Thanks
2U2 - To you too
? - Please explain
?4U - Question for you
AFAIK- As far as i know
AFK - Away from keyboard
AKA - Also known as
ASAP - As soon as possible
BAK - Back at keyboard
BBIAM - Be back in a minute
BBL - Be back later
BBS - Be back soon
B4 - Before
B4N - Bye for now
BF - Boyfriend
BLNT - Better Luck Next Time
BO - Blackout
BRB - Be Right Back
BTW - By The Way
CM Chat - Moderator/Master
CUL8R - See you later
CYA - See ya
CYAL8R - See ya later
DIY - Do it yourself
EOD - End of discussion
EG - Evil Grin
FAQ - Frequently Asked Questions
FYI - For your information
GF - Girlfriend
GG - Good Going (Good Game)
GL - Good Luck
GL2U - Good Luck to You
GLA - Good Luck All
GLE1 - Good Luck Everyone
GM - Good Morning
GN - Good Night
GR8 - Great
GTSY - Glad to See You
HF - Have fun
HB - Hurry Back
IC - I see
IGP - I Gotta Pee

IMHO - In my honest opinion
IMO - In My Opinion
IS - I'm sorry
IRL - In Real Life
JK - Just Kidding
L8R - Later
L8RG8R - Later gaiter
LMBO - Laughing My Butt Off
LOL - Laughing Out Loud
NP - No Problem
N2M - Not too much
OTFL - On The Floor Laughing
OIC - Oh, I see
OMG - Oh my goodness
PLZ - Please
PM - Private Message
PMP - Pee My Pants
POOF - I have left the chat
PPL - People
RTF -Read the FAQ
QT - Cutie
ROFL - Rolling On The Floor laughing my a$$ off
ROOMIE - A chat room member - anyone who's in the chat is a roomie
SD - Sweet Dreams
SO - Significant other
SRY - Sorry
STU - Same To You
SYS - See You Soon
TC - Take Care
TT - Ta Ta
TTFN - Ta Ta For Now
TX - Thanx
TY - Thank You
TYU2 - Thank You & you too
TYVM - Thank you very much
U - You
WB - Welcome Back
WTG - Way to go
YW - You're Welcome
YVW - You're Very Welcome